CALTRATE BONE & MUSCLE HEALTH
From the World's No.1 Calcium Brand*.
Recent scientific studies indicate that daily intake of Vitamin D helps maintain healthy bones and muscles. Vitamin D plays an important role in supporting muscle strength hence supporting muscle balance, which are important for prevention of falls which may lead to subsequent fractures. Vitamin D also helps in optimal Calcium absorption to maintain strong bone health.
Based on clinical studies, the Vitamin D contained in Caltrate can support muscle strength, helping to reduce overall fracture risk in both men and women.
Caltrate Bone & Muscle Health can be taken with your multivitamin supplement. It is specially designed and film coated for easier swallowing. Caltrate Bone & Muscle Health is tested to meet United States Pharmacopeia standards for dietary supplements and is manufactured under Good Manufacturing Practices.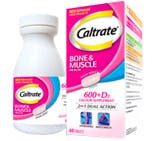 Who is it for?
Indoor/office workers who need additional Vitamin D for increased Calcium absorption
Pregnant and lactating mothers (Please consult your healtcare professional before taking)
Adults with low intake of Calcium and Vitamin D
Recommended Dosage
Take 1 or 2 tablets everyday with water after meal or as directed by your physician. If taking 2 tablets daily, it is suggested that you should have each tablet at a different meal time. Do not exceed the recommended dose. As with any supplement, if you are pregnant or nursing a baby, contact your healthcare professional before taking.
Important Information
Keep out of reach of children. Store at temperature below 30° C.
Each tablet contains 600mg of Elemental Calcium and 500IU of Vitamin D3.
Important Information
Caltrate Bone Health does not contain sodium, lactose, gluten or preservatives. It is suitable for sodium restricted diets and consumers who are lactose intolerant.