ABOUT CALTRATE - WORLD'S NO. 1 CALCIUM SUPPLEMENT BRAND*
It's never too early or too late for Caltrate.

Each of Caltrate's 600 formulas contain 600 mg of elemental Calcium (which meets 60% of U.S. Daily Values, 2013). Caltrate optimizes Calcium absorption to help maintain strong bones and provides a reliable way to ensure that you meet your daily Calcium requirements, together with the calcium intake from your diet.
Each tablet provides 600mg of elemental Calcium which is 46-60% of the recommended dietary intake for adults.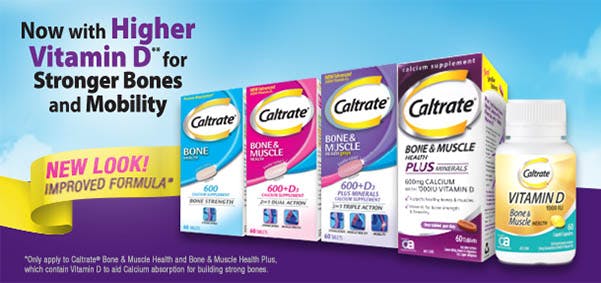 Major components of healthy bones include Calcium and Bone Collagen. Bone fortifying minerals such as Copper helps to support Bone Collagen formation. Bone Collagen forms part of the bone matrix and together with Calcium, they are important to help support Strong Bones and Mobility.

UC-II has been clinically proven to more effective than glucosamine + chondroitin! The results of a randomised, double-blind, placebo-controlled study1 have shown that UC-II is more effective than glucosamine hydrochloride + chondroitin sulphate in relieving joint discomfort and joint stiffness.
Caltrate 600+D Bone&Muscle Health
Caltrate600+D Plus Minerals Bone&Muscle Health Plus (500IU)
Caltrate600+D Plus Minerals Bone&Muscle Health Plus (1000IU)
Caltrate Vitamin D 1000IU
*Versus current Caltrate 600 PLUS with 400IU of Vitamin D3.